Sunday the
Covington Historical Game Club
played a fictitious scenario based loosely on real events in 1944 Poland and Saving Private Ryan.
A ad hoc group of paratroopers about platoon strength had scrapped together some anti tank guns and some extra bazookas and planted themselves in a French town to guard the bridges to the beachhead with orders to hold till relieved. The German 2nd SS had been given orders to take the village and if possible push onto the beachhead.
German Strength (1705 pts)
2 Platoons of Panzer IVs Plus HQ
1 Section of SS Armored Artillery Battery Hummel 155mm
1 Section of SS Armored AA Platoon 20mm Self Propelled AA Guns.
1 Platoon of Halftracked SS Panzerpah of 2 Patrols.
Allied Strength (1810 pts)
At Start
1 Platoon of Paratroopers
1 Section of Gliders 57mm Anti Tank Guns
2 extra Bazooka Teams
Priority Air Support P-47s

Reinforcement
2 Platoons of Sherman Tanks Plus HQ
1 Platoon of Armored Infantry
1 Section of Self Propelled Artillery

Victory Conditions:
At end of the game if the Germans were able to "contest" one bridge the game was a Tie. If they were able to contest 2 bridges they win.
The terrain is not tank country and the Germans have to enter and pass through a bottleneck to get to the village. With no infantry to fight in the village the Germans are going to have to rely on their artillery to blast the paratroopers out of the town or somehow get to the other side of town and contest the river crossings from the far bank. The river is not fordable.
The bottleneck proved the Germans undoing. It provided a target rich environment for the P-47s which knocked out the German artillery early in the game and to add insult to injury took out the AA guns too. The Panzerpah arrived late and had no effect on the battle. The German Tanks tried to force the village but the paratroopers made short work of tanks that tried. Plus allied reinforcements began to arrive to blunt any attempt at crossing the river and were outflanking the German drive. The game was called on turn 6.
Overview of the battlefield. Germans entered through the upper left corner.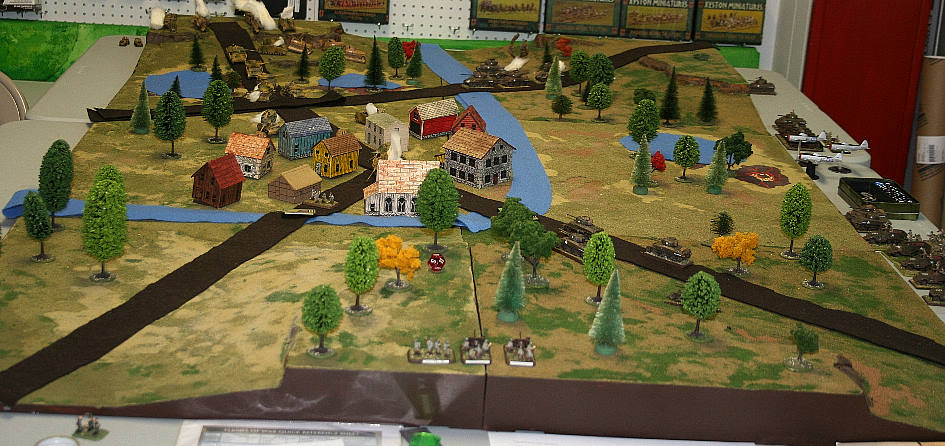 A target rich environment for the P-47s.
The struggle in the village.